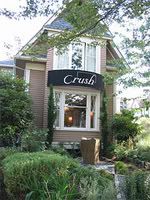 So, last night Matt and I went to Crush (2319 E. Madison) in Seattle. I have been wanting to go to this restaurant for a little over a year now and I keep reading rave reviews about the chef and the restaurant itself. When you see the restaurant from the street it doesn't look like much. It is a converted mansion in a residental area of Capitol Hill, and if you aren't looking for the it, chances are that you will drive right by it and not even notice it. However, when you walk into the restaurant your expectations are immediately heightend. The furniture is all white, super modern and chic, plus the lighting is oh-so-flattering and it smells awesome. There is an upstairs and downstairs section. We walked in and the hostess led us upstairs to a white leather booth lit by lime green votive candle holders (if you know me, you know that I currently have an obession with all things lime green).
I had been eyeballing the menu on-line all week (
http://www.chefjasonwilson.com/
) and I knew I wanted the lobster and a glass of chardonnay. We ordered the potato gnocchi for an appetizer-- it was totally delicious! Gruyere cheese, mushrooms and truffle oil over perfect little potato gnocchi. I was in heaven, plus the bread that they brought out was super good as well. Then came the main courses. I ordered the lobster and Matt ordered the chicken.
I have to say I was somewhat disappointed in the lobster. The flavors of the dish were amazing (more gruyere cheese too . . . yum!) but the lobster was not as fresh as I would have expected. Perhaps I have gotten spoiled living in the Northwest and all, but when I order seafood I HATE it if it tastes "fishy" at all. The lobster was a tad bit fishy for me. I was very sad. Overall the dish was great and if the lobster had been a bit fresher I would have given it an A+. The tangerines in the pasta were a wonderful idea and went great with the lobster.
Then we ordered more wine and asked for the check. When the check came the waitress also brought a selection of truffle chocolates on a plate that had "Happy Birthday" drizzled across it in chocolate. I had told her that it was his birthday when I made the reservation and they must have made a note of it, because I didn't have to say anything while we were there. Plus, they didn't charge us for the dessert . . . even better!
The food was great and the atmosphere was very, very sexy and hip. I was very impressed and I felt like the food was worth the money.The menu changes seasonally and I will definitely go back again to try what they might have for winter . . . and spring . . . and summer.
So, if you're ever hungry in Capitol Hill and have a few extra bucks to blow. Head up Madison and go to Crush.