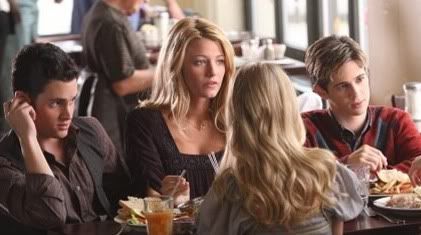 So this weekend I was not feeling so wonderful (emotionally or physically), so I decided that I would have a low-key Halloween and make some comfort food. I had recently read one of my bazillion magazines that I get every month and it had a bunch of places to buy truffle oil and truffle butter-- you know-- those lovely 'infused' oils with the essence of the $2,000/ounce rare mushrooms. I decided to go buy some truffle oil ($24 at Williams Sonoma) and do research on the internet for the best truffle oiled grilled cheese sandwich, mostly because I had no idea what type of cheese to use. After a few google searches I found the $50 Gossip Girl Grilled Cheese. Now, embarrassing as it is, I love that tween-dramedy and suddenly I remembered the scene where they ate these lovely, decadent treats. I decided that THIS was the recipe I had to try out. So, I called up Tiffany, told her I was coming over armed with cheese (cheese is pretty much her kryptonite), and cooking her dinner.
I went to the store and purchased: fontina cheese, the QFC roasted garlic bread (which, btw is fantastic) and truffle oil. Now, in Gossip Girl the sandwiches actually have shaved truffles on them, but I don't even know where a commoner like me can purchase such an expensive piece of fungus, so I substituted the actually truffles with the WS truffle oil. I was also a little annoyed because I had done some research on fontina cheese and apparently it is an Italian cheese, which is nutty like gruyere, but more pungent as it ages (marked with a darker rind). Fontina cheese is also made in Denmark, but the Denmark fontina is supposed to be something of a knock off and not as yummy. Unfortunately, all I could find was a batch of Denmark's finest (boo) and nothing from Italy. I think I might need to go to a specialty cheese store to find the Italian stuff, but I had no time, so the Denmark fontina had to do.
I went to Tiff's and invaded her kitchen (which is MUCH larger than mine). I sliced the bread and the cheese, and layered the cheese on the bread. Then I brushed the inside of the other piece of bread with truffle oil using a pastry brush. Then on the exterior of both pieces of bread I spread on sweet cream (unsalted) butter. I grilled the sandwich with even more sweet cream butter and truffle oil in a skillet. Two minutes later . . . voila . . . a FABULOUS $50 Gossip Girl grilled cheese sandwich!!
Tiff and I both thought that they were little pieces of heaven (they even SMELLED savory), but of course we both started thinking of other stuff we could add. We came up with pieces of turkey after Thanksgiving and a mixture dungeness crab meat with artichokes. Something tells me I have a lot of fatty cheese in my future, but hey, eating fatty foods is okay on weekends, right???