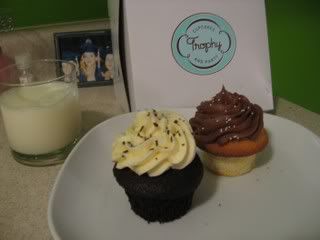 Wow! It has been a loooooong time since I have written in this thing! I started the blog, then got busy and haven't really been doing anything too interesting the past few months . . .
Anyway, I have been meaning to write a small review about the new cupcake shops that are popping up absolutely everywhere. I have to say, I L-O-V-E this new dessert trend. You have to love delicious, decadent creations that are also individually sized. My favorite cupcake place in Seattle is Trophy Cupcakes in Wallingford (1815 N. 45th Street, Suite 209, Seattle 98103).
I really like the Wallingford neighborhood right now too, actually. They have put in all sorts of cutsie shops for everything from gourmet cupcakes to doggie bakeries.
Anyway, Trophy Cupcakes is in a large brick building, but has the CUTEST, striped balloon awning at its entrance. Inside they have all kinds of adorable party supplies and every kind of cupcake embellishment you can imagine: new babies, birthdays, pirates, circus animals, graduations, all holidays, the list goes on and on. The cupcakes are delicious, moist and made super fresh. They have different selections on different days, but my favorites are: Hummingbird, Carrot Cake, Chocolate Chip Mint and Triple Chocolate. They also have selections that are a bit off the beaten path like Chocolate Graham Cracker, Chai Cardamom and Snickerdoodle. Cupcakes are $2.99 each or $33 for a dozen . . . the dozen works out great if you promised to bring dessert to your boyfriend's family's Christmas party and you REALLY don't feel like baking (I speak from experience). The staff is super friendly and helpful.
Wallingford can be kind of a pain in the ass and, happily, I read in the PI a few weeks ago that they are adding a location in University Village. Now I can shop at Juicy Couture and have my cupcakes too (just not too many cupcakes or those cute dresses might not fit as well).