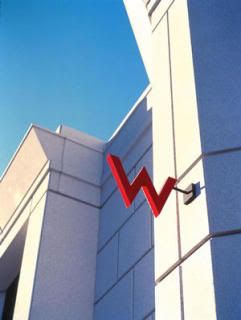 I recently took off for a couple days and flew to San Francisco to get away. It was quite a lovely trip and I had a wonderful time. Before I left I mapped out a few places that I absolutely HAD to visit while I was down there . . . the CB2 store, the flagship Williams Sonoma, the Museum of Modern Art and the W Hotel were all on the short list. As it turns out the W and the Museum of Modern Art are right next door to each other! So, that made my day plans easy to accomplish.
I went to the Museum of Modern Art first and checked out the SF collection of Henri Matisse's and Roy Lictenstein's (I have two Lictenstein prints in my living room-- LOVE him). I actually got my picture taken next to a huge Lictenstein, which maybe I'll post on here later. Anyway, after a few hours of exploring the museum I was hungry so I went next door to the XYZ restaurant and lounge at the W Hotel.
I had extremely high expectations for the W San Francisco (
181 Third Street, San Francisco 94107
) because the W Seattle (
1112 Fourth Avenue, Seattle 98
101) is one of my favorite lounges and holds a lot of great memories(blurred as they might be). Plus, I had read a review in some magazine awhile back that just sang the praises of the XYZ bar. My initial response upon walking in . . . wuh wuh wuh. The W Seattle has a MUCH larger and better decorated living room space and is MUCH more modern and new. SF just seemed small and in dire need of an up-date. The Bar was a U-Shape-- somewhat like Seattle, but unlike Seattle there were no other places to sit in the lounge besides the bar. I ate in the restaurant and the food was amazing (the service not so much), but once again the ambiance left a lot to be desired. They had all sorts of fresh flower arrangements all over, which is nice, except when the staff is not careful to dust off the pollen frequently. Allergy attack anyone? Oh well, over all it was a pleasant enough experience, but it did not live up to my high expectations. Earth and Ocean and the W Bar in Seattle kick XYZ's pretentious ass.
I will say that the one thing that the W Hotel Seattle doesn't have that SF does have is a Bliss Spa. I was so tempted to go up a couple floors and ask for a tour of the spa, but it just seemed too dorky when I wasn't planning on getting any treatments that day. Oh well, I guess I will just have to live with the Bliss products I buy from Sephora for now. However, note to the W Seattle-- put in a Bliss Spa! Please, it would be very lucrative. Maybe I will have to check out the W Scottsdale and go to the Bliss there the next time I go visit my Dad.
I will be traveling this summer and I will do a little blogging about my other city adventures for fun. Next stop? LAS VEGAS. We already have reservations at Tao, so I will definitely have to write about what I find there.
Oh, P.S. the flagship Williams Sonoma store in SF is AMAZING! Four huge floors of all things cooking! I loooooved it.
Me at the Museum of Modern Art next to a Lictenstein . . . I look so small next to that huge painting.