This weekend I flew to CA (see, I told you I would be travelling this summer) and spent a very lovely Saturday wine tasting in Napa Valley. This was pretty much a dream come true for me. It was on my list of 'Things I Must Do Before I Get Married & Have Kids' and now I can check that one off the list. Hooray! Now I just have to get to Vegas (going in July), New York and Paris.

Anyway, before I left I printed out a map of all the wineries in Napa and the list was extremely overwhelming. I decided to highlight the more famous wineries and try to visit those along with a few lesser known wineries. Ha! I only made it to three wineries because a day of wine tasting in the warm sun makes you TIRED fast. My parents warned me to not get too drunk and to only take a taste and not feel the need to drink the entire pour. This was good advice, however, when you are paying $15 to $25 for a flight tasting at each winery you tend to have a strong desire to "get your money's worth". Due to this mentality I was completely wasted half way through my tasting at the second winery and ready for a big nap after the lunch I ate to "soak up the wine". What the hell, I had a great time and I would love to go back again.

Our first stop was the Robert Mondavi winery (7801 St. Helena Hwy, Oakville CA 94562 and http://http://www.robertmondaviwinery.com) which was on my "famous" list. Of the three wineries that we visited this was my favorite, which is odd because I have NEVER liked a bottle of Mondavi that I purchased at the grocery store. The wines you taste at the winery are generally not available in mass production and are much more delicious. $15 each buys you a three flight tasting and you get to keep the glass, which of course says 'Robert Mondavi'. I tasted their 2007 Napa Valley Fume Blanc (VERY good), a 2007 Carneros Pinot Noir (okay) and the 2007 Moscato d'Oro (WONDERFUL). I had recently read an article on moscato in Food and Wine and really wanted to try it because it sounded right up my wine palate alley-- and I was not disappointed. In fact, it was so good that I bought a bottle, which I HAD to do because it is not generally available in stores. Now my only problem will be choosing a good occasion to uncork my wine treasure. On top of the great wine tasting, Mondavi had a great gift shop-- complete with some honey truffle mustard which I could kick myself for not buying-- and beautiful grounds with roses and a fountain.

Our next stop was the Louis M. Martini winery (254 St. Helena Hwy, St. Helena CA 94575 and www.louismartini.com/winery/tasting.htm) which was on my 'lesser known' list and it was nice as well, but less impressive than Mondavi. The grounds were gorgeous but the tasting room wasn't all of that charming and the bartender was not as knowledgeable as I would have liked, younger than me and a bit of a pompous ass. Good thing I was drunk at this point or dealing with him would have been even more annoying. When we walked in Mr. Wonderful gave us a complimentary sample of their most popular cabernet sauvignon and it was okay, but I don't particularly like cab's. Then I had a $12 Summer White's flight (they had several flights to choose from in different price ranges) that included 2 chardonnays and a moscato. I swear to God, moscato's are all the rage in Napa right now and they are ALL fabulous. I liked the first chardonnay called Shady Pines, the second one not-so-much and I liked the moscato, but not nearly as much as the moscato from Mondavi. We stayed at this winery for a good hour and enjoyed the tasting, but did not purchase any wine.

At this point I was pretty loopy and getting tired. So, we decided to stop for lunch at a place that I cannot remember the name of for the life of me. They had yummy garlic fries and so-so mac and cheese, but nothing that could make me remember the place through my wine haze. After lunch I was feeling a bit better and we drove around a bit more and decided to make one final stop before heading back.

Our third and final stop was at the extremely beautiful and famous Beringer winery (2000 Main Street, St. Helena CA 94574 and http://www.beringer.com/). I know that this next statement makes me a bit of a nerd, but I was so excited to go to the Beringer winery because Jessica Simpson and Nick Lachey went there on one of the episodes of 'Newlyweds'-- don't judge me, I never claimed that I had sophisticated TV programming taste. Anyway, I have never liked a Beringer wine that I purchased from the grocery store and I am sad to report that I did not like a single wine that I tried at the Beringer winery either. However, we paid $10 each for a three wine flight, but the bartender was friendly, enthusiastic and let us taste like seven wines. I tried pretty much everything including a white merlot, which I had never even really heard of and a ubiquitous moscato, but nothing tickled my fancy and it was time to go home. The grounds at Beringer are absolutely breath taking, gorgeous and HUGE. They have several beautiful, old buildings and lush gardens. Their tasting room was also beautiful, the bar was marble, mahogany and very impressive. It is a shame that such a lovely place can't put out a good wine to save its life (in my humble opinion anyway).

I wish I could have stayed longer and visited more wineries, but I am quite the light weight these days and I couldn't hang with the winery pros (even after I started taking a sip and tossing the rest). Below are some pictures from my Napa Valley adventure. If you do get a chance to go to Napa you should jump on it immediately. A day in Napa is decadent for three of your five senses. The air smells great, the wine tastes wonderful, and the scenery looks beautiful. I will definitely be back to sample more wines and hopefully one day I will get to Sonoma as well.


Beringer Vineyards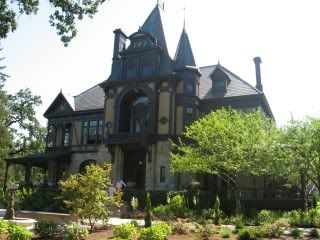 Me at the Mondavi Fountain


Me in front of the Beringer sign