As I have talked about in my past few blogs, I made a trip to Las Vegas this past weekend and shopped, dined, drank, saw a show, etc. I had a great time, but ohmigod am I happy to be home and back to my normal life. I visited four restaurants while in Vegas: Mon Ami Gabi at the Paris, Tao at the Venetian, Wolfgang Puck's Spaggo at Caesar's and Border's Mexican Bar and Grill at the Mandalay Bay.

My first meal in Vegas (basically right after stepping off the plane and checking in to the hotel) was at Mon Ami Gabi at the Paris. Beth and I walked down the strip in the heat and humidity to the Paris so I could #1 get my picture taken in front of the 'Eiffel Tower' and #2 so we could get some French food. Below are some pictures of the excursion.
Mon Ami Gabi is a more formal restaurant at night, but during the day they open up the air-conditioned terrace area that opens up onto the strip. True to the European experience, they have wine carts everywhere, wood and wicker chairs and white table cloths. After the server comes over to say take your drink order he or she will bring you a warm baguette to start. I ordered an open faced sandwich with brie, micro greens, marinated peaches and balsamic vinegar. This was hands down the absolute BEST meal I ate while in Vegas and it was vegetarian! Hooray! The sandwich came with pomme frites, which were okay, but I didn't need them. The sandwich was small enough to eat the whole thing without feeling super guilty and decadent enough to feel like you were indulging yourself big time.

The flavors all complimented each other perfectly and I sincerely wish there was a place in Seattle where I could find something similar. Cafe Campagne really doesn't rock my socks because every dish on their menu has some sort of disgusting, rotting, red meat flesh on it . . . yucky. *Sigh* Oh well I guess I will just have to plan another trip. I will say that the service at Mon Ami Gabi is slow, but it sort of adds to the laid back European experience and honestly (probably since I was on vacation) I really did not mind.

That night we went to Tao at the Venetian for Nicole's bachelorette dinner and it was wonderful. As you can see in the picture below, we all had matching "Nicole's Vegas Bachelorette Party '09" t-shirts. It was all really fun.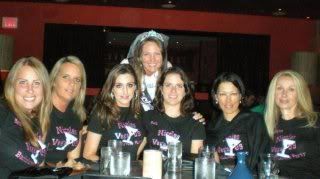 The girls at Tao



The food at Tao was unbelievable. Everyone was ooohing and ahhing over their dinners and yummy cocktails. My entree was really great; the coconut shrimp were perfect with the peanut sauce and asian vegetables. However, I really don't think they needed to 'garnish' (and by garnish I mean completely cover the plate) the entree with cilantro. I also really didn't like the fact that they didn't remove the shrimp tails. If I wanted to work for my food I would have stayed home and cooked. I also tried Beth's cilantro 'garnished' kung pow chicken and it was extremely delicious.

Now I am going to complain. They charged me $7 for a bottle of sparkling water. $7! That is completely ridiculous, especially since I know it costs $3 at QFC. Also our waiter was a complete and total jerk. He refused to split the check at all and was completely rude and condescending to Beth when she pushed him on it. He acted completely put off by any requests that we made and treated us like second class citizens-- which in turn-- cut his tip in half. I told Beth that we should ask for the manager and report him, but she didn't want to get him in trouble. If it had been up to me I would have done everything I could to get his dumb ass fired, but leaving a dinky tip was all the revenge that I was able to get.

The ambiance at Tao is really campy and sexy. There is a real koi fish pond beneath a huge Buddha in the dining room. There are different varieties of old opium pipes set in back lit, brightly colored shelf boxes along one wall in the restaurant. The music is just loud enough to make the restaurant feel like a sleek lounge.

The ambiance and the food made Tao a great place to eat. If you are in Vegas just make sure to go to Tao with a small party, mind your manners to your waiter and NEVER ever (horror of all horrors) ask the waiter to split the check.

The next day I had lunch at Wolfgang Puck's Spaggo at Caesar's Palace. I was taking some alone time and therefore didn't get any pictures to show off on here. I sat in the bar and ordered a salmon salad which was pretty good. The salad desperately needed a little more acid and definitely needed something crunchy. Between the salmon, the avocados and the celery root it got a bit mushy and that is no good. However the bartender was very sweet and attentive, plus he told me that I look like Anne Hathaway. I liked him; he gets a big gold star from me. I guess I can be easily bought, but oh well.

That night we went to Border's Mexican Bar and Grill at the Mandalay Bay. My experience here was a little 'hairy' to say the least and I would say that this restaurant personifies "The Ugly".

First off let me state that I didn't pick this restaurant. Another girl in our party made the reservation because she had been before and really liked their ceviche. Fine and dandy, I guess. I ordered special which was the chicken enmolada. I was really trying to go low carb because the dress I had on was tight and VERY unforgiving of any tummy bloat/food baby that might occur after eating. So, I ate about five tortilla chips (salt is bad for bloat) and waited eagerly for my chicken. Finally the food came and I ate a few pieces of what was really delicious chicken and started poking at the veggies. What did I find lurking in my veggies you ask??? A BLACK HAIR!!! No I am not kidding, a HAIR!! I was so disgusted. It gives me the heeby-jeeby's just thinking about it now. I immediately motioned for a bus boy to come over and showed him the little friend I found in my food. He apologized, and was very nice, and offered to bring me a new plate. A new plate was quickly brought out and the manager came out, apologized and offered to buy me a drink. I ordered their biggest margarita, poked at my food and lamented my experience. Needless to say I ate a little, but I left the restaurant $40 poorer, hungry and pissed off.

I will say that the wait staff at Border's was really sweet and attentive and genuinely wanted us to have a nice dinner experience. Needless to say all of their efforts were ruined by their kitchen staff member who forgot their hairnet that day. Uhhhh, there go the heeby-jeeby's again.

So 'the good' restaurant in Vegas was definitely Mon Ami Gabi, 'the bad' was Tao because of their asshole waiter and 'the ugly' was Border's for their lack of hygiene. Overall I had a really nice vacation and did eat some delicious food in Las Vegas. There are about a million more places I would like to try down there and hopefuly someday I will get the chance.

As for right now, all of my summer travels are officially over and I am back to writing about Seattle exclusively. So if any of my loyal readers hear of any new, fantastic places please leave me a comment and let me know!