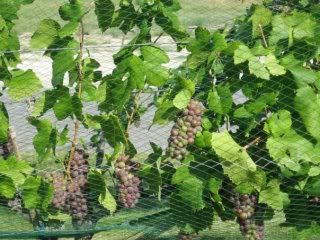 Grapes at Wapato Point Cellars

This past weekend my friend Tiffany and I headed off to her parent's house in Chelan, WA. For those of you not in the Washington "know": these days Chelan is to Seattle what the Hamptons are to New York City on the weekends during the summer. Every weekend many, many wealthy souls from Seattle/the Eastside brave the mountain passes and head over to their country houses on Lake Chelan. The tiny, quaint town of Chelan is basically packed with Seattle-ites during the weekends and it is difficult, if not impossible, to find parking in Downtown Chelan or navigate its teeny sidewalks.

Chelan has also gotten quite the reputation for producing quality Washington wines. Tiffany had recently thrown a bachelorette party for her best friend from high school and they took a wine tasting tour of Chelan to celebrate. They came home with many bottles of wine and Tiffany happend to share a pinot grigio from Wapato Point Cellars with me one night. The wine was amazing because of the strong apple flavors in the wine. These flavors come from the fact that grapes and apples are often grown in adjacent fields in Chelan, and it makes the wine fabulous.

Needless to say, Tiffany and I did some wine tasting on our little weekend trip. We went to Wapato Point Cellars and tried their: 2007 Sauvignon Blanc, 2007 Riesling, 2005 Red Delicious, and 2006 Rose. The Sauvignon Blanc was great and had VERY strong apple notes, but my favorite was the Riesling! The Riesling was sweet, but not too sweet, and packed a great punch of fruit flavors-- including peach-- yum! The Red Delicious was very nice as well, but a bit dry for my tastes. The Rose was amazing. So much so that Tiffany bought an entire case. I am not normally a fan of rose's but I am going to see if I can't talk her into letting me have a bottle for my red collection. I would highly recommend visiting Wapato Point Cellars if you are ever in Chelan. The wines are great (and unlike expensive, pretentious Napa Valley) the wine tasting fee is $0-- that's right-- absolutely free. The pours aren't as generous as the pours in Napa Valley, but you can't beat free.

Tiffany and I went out to the Vogue Wine and Coffee bar in downtown Chelan that night. The ambiance there is a little funky. There is live music, cute 'vintage' Washington wine posters and an attempt at sophisticated decor. However, the bar moved-- significantly-- whenever anyone leaned on it and for some reason everything felt unfinished and not tied together. The wine was not that impressive either. We walked in and the guy asked us what we wanted after advising us that several of the wines, including what sounded like a lovely Viognier, sucked. We ordered a Pinot Gris first and it was absolute piss. I think I may have had Franzia that tasted better, and at $7 a glass that was VERY disappointing. Then, high after our great experience at Wapato, we decided to order a Rose. The Rose was better, but still fell short of my expectations for a wine bar in the middle of Washington wine country. Vogue is a fairly new establishment and it is obvious to me that they still have a LOT of work to do in the construction of their bar and their wine list. On a brighter note, the live music was fun and Tiff and I had a great time singing along to Sublime and ZZ Top covers.

Overall the weekend in Chelan was lovely and relaxing. I came home with a little more knowledge of Washington wines and quite the sunburn on my face and chest. Ahhhh . . . summer in Washington; fleeting but fantastic.
Tiffany and I at the Vogue Wine bar in Downtown Chelan