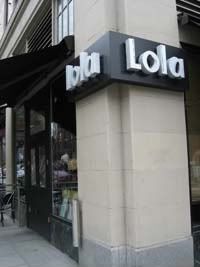 Just a quick note here . . . not last Friday, but the Friday before I went to Lola (2000- 4th Avenue, Seattle 98121) for happy hour. Happy hour runs from 4 pm to 6 pm, but if you have been sitting at the bar during happy hour and the clock passes 6 pm you will most likely still get the happy hour pricing. I did not actually eat anything but the drinks are good and ridiculously well priced. They have this lovely peach bellini-ish concoction that is made with sparkling wine and just the right kick of spice. They also have a huckleberry fizz drink, which was fine, but not my favorite and a Grey Goose vodka martini all for $5. If you can find any other place in the city that serves Goose martini's for $5 I will be completely shocked because I certainly never have found one. A word of caution though, the Goose martini's come with a feta cheese stuffed olive, which over time turns your drink into cheese-vodka mess (ick!). So, my recommendation is either eat the olive right away or ask to substitute a twist. I did the latter and the martini was perfect.

Lola also has a lovely little patio area that is great to sit in and people watch, if you can get a seat outside. I will never forget a year or two ago, Matt and I were sitting on the patio and talking when the Scooby Doo Mystery Machine van (or its doppelganger) was sitting at the light near the patio on 4th Avenue. All I could think was: "Was that the Mystery Machine or I am really just that drunk?!?". Maybe you had to be there, but it was hilarious. When we were there two weeks ago the patio was completely full and we had to sit at the bar and miss potential cartoon van sightings, but it was nice to sit inside to escape the 85 degree September weather (WTF is up with that btw?) in the air conditioning.

Anywho, if you are downtown in the early evening and feel like having a fabulous martini or peach bellini, Lola is a great place to stop.
P.S. I am wondering how my blog got up to almost 12,000 hits? I swear it was only at 300 a week or so ago . . . I am thinking my counter is broken. Boo.